Back
Region : Imereti
Municipality : Tskaltubo
Full information
Tskaltubo is situated in the central part of western Georgia at the foot of the South Caucasus, ten kilometers from the city Kutaisi, a hundred kilometers from the warm Black Sea and 230 kilometers from Tbilisi, the capital of Georgia.
In the old times Colchis was mentioned in the myth about Argonauts who came to Media's native land in quest of the golden fleece.
Tskaltubo mineral water has a long time history. Tskaltubo was famouse even VII-IX centuries. In XII-XIII centuries Tskaltubo was alrealy injoyed with wide popularit.
Clinical data show the extraordinary wide range of curative properties of Tskaltubo as a health resort, but it became especially famous for its unique warm radioactive gaseous springs (baths) which has been well-known since the ancient times.
Curative properties of Tskaltubo springs are incomparable. The springs are naturally warm, they have nearly the human body temperature (33-350 C) and can be used without being heated. The water is clear, slaking without smell.
Tskaltubo mineral waters are of high medical properties, they can cure (treat) about sixty diseases. It magically helps the patients who have the joint disease, the disease of the peripheral nervous system, the cardiovascular system disease, skin disease, metabolism, the disease of endocrine glands, gynecological disorders and many other diseases, but since the 1970s its repertoire has included "speleotherapy", in which the cool dust-free environment of local caves is said to benefit pulmonary diseases.
The treatment in Tskaltubo is so effective that many patients who had to walk on crutches before treatment stopped using them after treatment. The water produces a tranquillizing effect on people with nervous breakdown, many childless women's dreams come true.
There are many comfortable hotels in Tskaltubo.
Tskaltubo is known not only as a Spa but as well as a popular tourist centre. It is situated in a great hilly plain with its warm moderately humid climate. The peculiarities of the climate are formed by specially combined solar radiation, atmospheric circulation and complex topography. The solar radiation regime determines the subtropical climate of Western Georgia. Tskaltubo is famous for its mild winters ( +30C ) and not very hot summers (+33-350 C). So Tskaltubo can be considered to be a climate resort.
Along with the treatment you can have a good rest here. There is a large beautiful park with about a hundred different specimen of subtropical flora. There are also Historical and area Studies museums.
It takes you about an hour and a half to reach the Black Sea shore or the Alpine snow-capped mountains of Svaneti. You can see the dinosaurs' traces near the cave of Sataplia. The beauty of the karst cave takes your breath away. The territory of the Sataplia National park is interesting for its fauna and flora. The popular Prometheus cave is not far from Tskaltubo. It is fairly considered one of the best in Europe. Tourists can see and admire its wonderful transparent lakes, stalactite and stalagmite woods and fairy-tale halls. For those people who do not need any treatment there are recreation facilities at their disposal, they can see eastern Georgia's sights, go to the seaside or to the mountains. So they can both entertain and rest. From Tskaltubo to Tbilisi tourists can travel by cars and trains.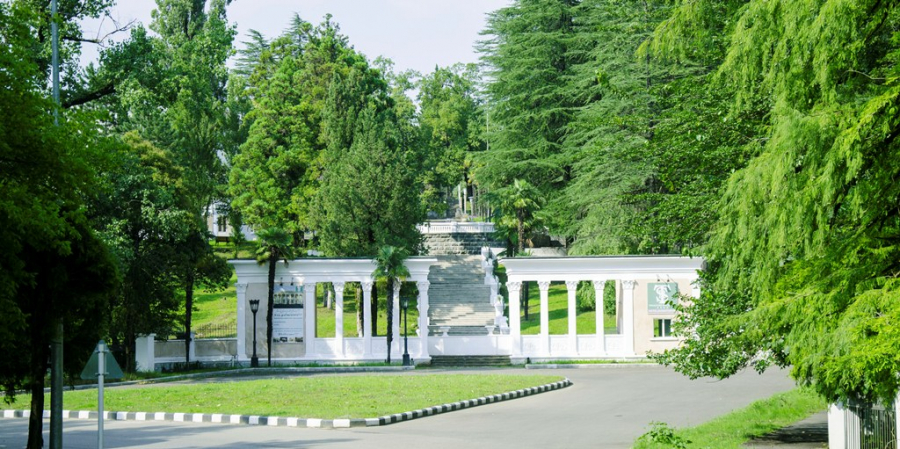 Tskaltubo Plaza Hotel
Show at map
Category : Hotel
15A; Rustaveli ave, Tskaltubo
0436220808
Hotel "Tskaltubo Plaza" offers a modern, comfortable environment and truly distinguished services to its guests. .
The hotel is located in the center of the city, on its central square..
There are several balneology centers nearby the hotel, which makes hotel "Tskaltubo Plaza" even more attractive for visitors..
The hotel offers 76 rooms of 5 different categories, from a standard room to an apartment style one. .
"Tskaltubo Plaza's" main focus is on offering high quality services and satisfying guest requirements to a maximum level. Our main goal is to make sure that our guests' stay is not only beneficial for their health but also culturally and leisurely interesting.
Website: www.tskaltuboplaza.ge